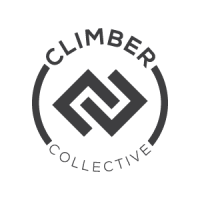 Climber Collective was founded on the idea of how a climbing gym can create its own inclusive community. Doesn't matter where you're from, who you are or how you climb.
Everyone shares the same goal. Get to the top! 
Plenty of the latest premium gear for sale at our front desk including Chalk, Chalk Bags, Shoes, Climbing Brushes, Merch and more.
Come visit us to check out what's new!
Weekdays: 4pm – 9pm
Saturday: 9am – 8pm
Sunday: 9am – 6pm
We are always looking for passionate people to join our friendly and motivated staff and route setters team.
If you think you have what it takes – apply within!
Sign Up
to Our
MAILING LIST?
Subscribe to our newsletter for our latest deals!
All participants must complete a waiver prior to entry.
Participants under the age of 18yrs require parental/guardian consent/signature.
Participants under 16yrs need parental/Guardian supervision at all times.
New participants are required to watch our safety video.
Spectators are to stay away from the matted climbing areas and all equipment.
No running, wrestling or gymnastic maneuvers on the premises.
Dangerous or high risk manoeuvres that are NOT set out by Climber Collective on the walls or training equipment is prohibited.
Please remove work boots/dirty shoes before entering Climber Collective.
Climbing shoes are essential while climbing one the walls. No sneakers or boots.
No alcohol, drugs or smoking on the premises.
No externally bought food or drinks are to be brought into the premises
Please stay clothed. Shirts to be worn at all times.
No loose chalk allowed at all. Liquid Chalk or Chalk Balls only.
Participants must listen to all staff directions and adhere to all signage within Climber Collective.
Discrimination will not be tolerated.
Although Climber Collective supports youth climbing we are predominantly an adult suited facility. Reach and difficulty levels are set for adult climbers from 5 feet and up. Our walls are 4m-4.5m in height with no ropes to catch a fall.
Youth Climbers are welcome to participate on a case by case basis or from 16yrs or older.
For very experienced youth climbers / SCA team members please contact us before booking.
Climbers under the age of 16yrs need adult supervision at all times. Due to the nature of our venue we are unable to facilitate non paying participants.
In the future Climber Collective plans to have youth times slots and training.
If you have any questions please contact us.
We at Climber Collective want everyone to feel welcome and due to this it's important to remember that while some of us love dogs, not everybody feels the same.
With the acceptation to service animals or certified therapy dogs we request that all pets are kept at home and not to be brought with you.
If you have any further questions please feel free to contact us.